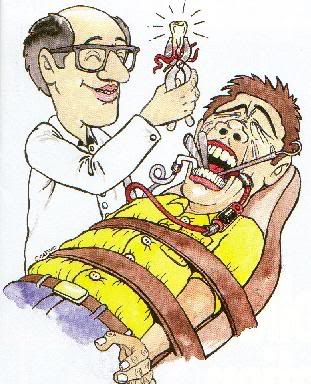 Thank God I'll never have to do this again. All four of my wisdom teeth were taken out this morning, a procedure I have delayed for the past decade because... well, I hate going to the dentist, let alone an oral surgeon. However, my doctor was a very nice and well qualified guy who made me feel comfortable and I knew I was in good hands.
They put me under, and the last thing I remember was talking about
ultramarathoning
with the nurses and my doctor. Apparently when I came to, I asked the nurse at least five times when I'd be able to run again. The answer each time was a very kind and patient "maybe by tomorrow". And once I asked "how long will I be able to go?". She apparently wasn't sure how to answer, and my friend Sarah got a good laugh out of it. I don't remember any of that, however. I have a vague recollection of driving home and seeing double of everything, but that's all I can remember between initially being put under and waking up from a nap after Sarah drove me home. While I was asleep, she went out and bought me all sorts of additional goodies and got my prescription filled. Thanks Sarah! Just mixed a yogurt smoothie with some wheat grass and that really hit the spot.
A bit painful at times, but this isn't as bad as I thought it'd be.
The
vicodin
will no doubt help as well. Alright, enough ranting. I generally don't like posting about anything unless it's more running related, but
thought
my somewhat nonsensical running inquiries to the nurse might amuse a few of you.
Happy running, and I'll be back out there "maybe by tomorrow."